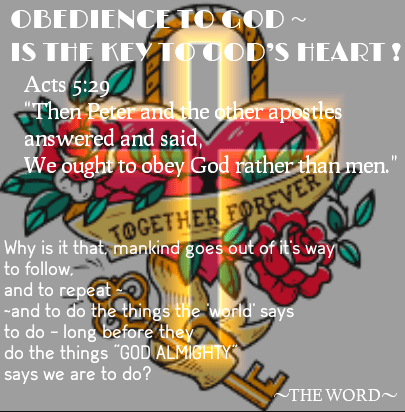 = Obedience to GOD =
Acts 5:29
"Then Peter and the other apostles answered and said,
We ought to obey God rather than men."
OBEDIENCE TO GOD ~ IS THE KEY TO GOD'S HEART !
Why is it that, mankind goes out of it's way to follow, and to repeat ~
~and to do the things the 'world' says to do – long before they
do the things "GOD ALMIGHTY" says we are to do?
FAITH is necessary to please GOD as noted in Hebrews 11:6.
And ~ if our faith is genuine and true, then we will live a lifestyle
characterized by righteousness, modeling the example set for us
by JESUS CHRIST. We are to obey HIS commands, not because
we have to, but because we want to, because we love HIM.
To neglect or refuse to obey; to omit or refuse to do what is commanded,
or to do what is forbid; to transgress or violate an order or injunction,
is to "disobey" GOD.
Luke 6:46
"And why call ye me, Lord, Lord, and do not the things
which I say?"
Many will do an (evil thing) with daring, yet they cannot bear to hear of
it afterward, or to have it charged upon them. We cannot expect to be
redeemed and healed by CHRIST, unless we give up ourselves to be
ruled by HIM. Faith takes the SAVIOR in all HIS offices, who came,
(as KING and PRIEST) not to save us in our sins,
BUT TO SAVE US 'FROM' OUR SINS.
JESUS said ~
"And why call ye me Lord, Lord, and do not the things
which I say?"
All the things CHRIST often used and said and commanded;
it was and should be, easy to apply them. We ought to be very
careful when we blame others; for we need allowance ourselves.
When we obey the LORD, we can live a life of joy, without shame,
rooted deeply in the LORD and confident in our eternal hope.
2 Corinthians 3:17
"Now the Lord is that Spirit: and where the Spirit of the Lord is,
there is liberty."
Our "obedience" ~
is actually part of our assurance that we truly know GOD.
1 John Chapter 1
2 (For the life was manifested, and we have seen it, and bear witness,
and shew unto you that eternal life, which was with the Father,
and was manifested unto us
3 That which we have seen and heard declare we unto you,
that ye also may have fellowship with us: and truly our fellowship
is with the Father, and with his Son Jesus Christ.
Matthew 5:16
"Let your light so shine before men, that they may see your good
works, and glorify your Father which is in heaven."

When GOD'S children obey their Heavenly FATHER,
"HE" is glorified. (Not 'us' ~ "HIM").
JESUS told us that the plan is for others to "see your good deeds,
whereby 'you' glorify your FATHER / GOD, in heaven" (Matthew 5:16).
Of course, performing "good deeds" requires obedience to the ONE
who calls us to good deeds. A Christian's testimony of holiness is
a strong witness that GOD is at work in the world.
"IF" – – –
+IF, we haven't been living for HIM,
+IF we haven't been following His commandments,
+IF we've been living in and for the "world",in and for the "world", and for the "world",
Then (we) are (not) allowing the transformative REGENERATION
of the HOLY SPIRIT to work (within) our lives.
Upon acceptance of JESUS CHRIST, we are transformed by the
blood of JESUS CHRIST.
We can (then) ask GOD for forgiveness, and HE will give it.
And HE will choose to forget the sin, just as if we had never committed
it in the first place. GOD is thereby glorified when HE extends
forgiveness, because it is written:
Hebrews 10:12-39
12 But this man, after he had offered one sacrifice for sins for ever, sat down on the right hand of God;
13 From henceforth expecting till his enemies be made his footstool.
14 For by one offering he hath perfected for ever them that are sanctified.
15 Whereof the Holy Ghost also is a witness to us: for after that he had said before,
16 This is the covenant that I will make with them after those days, saith the Lord, I will put my laws into their hearts, and in their minds will I write them;
17 And their sins and iniquities will I remember no more.
18 Now where remission of these is, there is no more offering for sin.
19 Having therefore, brethren, boldness to enter into the holiest by the blood of Jesus,
20 By a new and living way, which he hath consecrated for us, through the veil, that is to say, his flesh;
21 And having an high priest over the house of God;
22 Let us draw near with a true heart in full assurance of faith, having our hearts sprinkled from an evil conscience, and our bodies washed with pure water.
23 Let us hold fast the profession of our faith without wavering; (for he is faithful that promised;)
24 And let us consider one another to provoke unto love and to good works:
25 Not forsaking the assembling of ourselves together, as the manner of some is; but exhorting one another: and so much the more, as ye see the day approaching.
26 For if we sin wilfully after that we have received the knowledge of the truth, there remaineth no more sacrifice for sins,
27 But a certain fearful looking for of judgment and fiery indignation, which shall devour the adversaries.
28 He that despised Moses' law died without mercy under two or three witnesses:
29 Of how much sorer punishment, suppose ye, shall he be thought worthy, who hath trodden under foot the Son of God, and hath counted the blood of the covenant, wherewith he was sanctified, an unholy thing, and hath done despite unto the Spirit of grace?
30 For we know him that hath said, Vengeance belongeth unto me, I will recompense, saith the Lord. And again, The Lord shall judge his people.
31 It is a fearful thing to fall into the hands of the living God.
32 But call to remembrance the former days, in which, after ye were illuminated, ye endured a great fight of afflictions;
33 Partly, whilst ye were made a gazingstock both by reproaches and afflictions; and partly, whilst ye became companions of them that were so used.
34 For ye had compassion of me in my bonds, and took joyfully the spoiling of your goods, knowing in yourselves that ye have in heaven a better and an enduring substance.
35 Cast not away therefore your confidence, which hath great recompence of reward.
36 For ye have need of patience, that, after ye have done the will of God, ye might receive the promise.
37 For yet a little while, and he that shall come will come, and will not tarry.
38 Now the just shall live by faith: but if any man draw back, my soul shall have no pleasure in him.
39 But we are not of them who draw back unto perdition; but of them that believe to the saving of the soul.
Let not sin therefore reign in your mortal body, that ye should obey it in the lusts thereof. Romans 6:12. James 3:3.
4. To yield to the impulse, power or operation of; as, to obey
"OBEY" GOD ~
Let not sin therefore reign in your mortal body, that ye should obey
it in the lusts thereof. Romans 6:12. James 3:3.
To 'disobey' – is to yield to the impulse of sin and to the power or
operation of it; as to obey in primal urges, or manners pleasing only to
self — and as "Peter" pointed out in Acts 5:29 ~
"We ought to obey God rather than men."
Psalms 128:1
(A Song of degrees.)
"Blessed is every one that feareth the LORD;
that walketh in his ways."
Obeying HIS words and HIS ways !
GOD Bless ! !
ORDM, M.Cawthon